CeraMaster Course · CeraMaster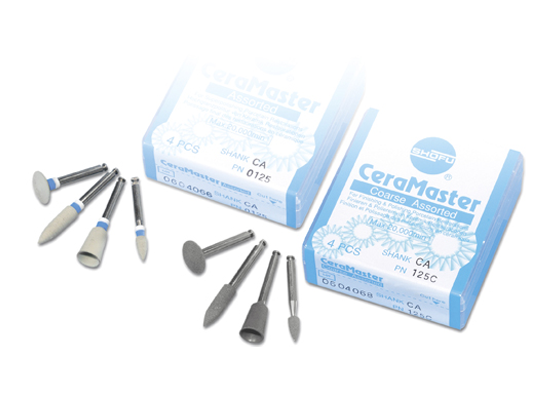 Diamond impregnated polishers with a unique blend of silicone and even distribution of diamond particles make these instruments the best choice for polishing porcelain and ceramic polymer to a glazed-like surface.
Features
A simple 2 step finishing and polishing system, ideal for intra-oral, chairside or laboratory use.

CeraMaster Coarse (dark gray polisher) – for finishing / polishing and adjusting margins of alumina copings
CeraMaster (blue and white bands) – for superpolishing

Durable, cost-effective and available in HP and CA shanks to suit all polishing surfaces.

Packaging
Individual shapes are packed in a box of 3's
Assorted shapes are packed in a box of 4's as follows:
CeraMaster Coarse Assorted CA [ PN 125C ]
1x Bullet, Knife, Cup, Mini-Point
CeraMaster Coarse Assorted HP [ PN 130C ]
1x Bullet, Mini-Point, KN7, WH6
CeraMaster Assorted CA [ PN 0125 ]
1x Bullet, Knife, Cup, Mini-Point
CeraMaster Assorted HP [ PN 0130 ]
1x Bullet, Mini-Point, KN7, WH6
* Unmounted wheels come with 1 Mandrel