Quick Resin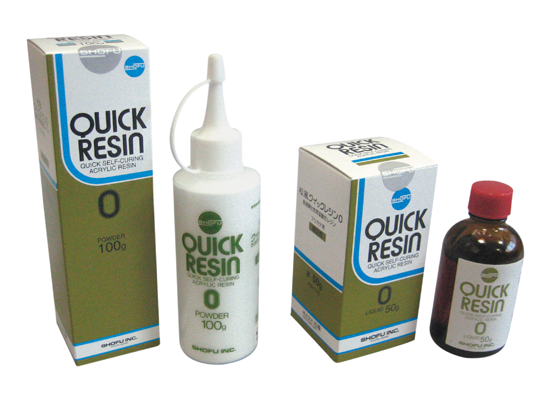 A chemical cure powder-liquid type acrylic resin, Quick Resin is available in 3 varieties for specific indications.
QUICK RESIN – A: Temporary veneers, Temporary crown & bridge, Individual tray fabrication for abutment tooth impressions
QUICK RESIN – B: Quick self-curing resin for re-basing denture base, repair of dentures, dislodged or fractured prosthetic tooth, loosened clasp, broken plates, extension and projection of denture border, etc.
QUICK RESIN – O: Fabrication of Orthodontic appliances
Features
Excellent strength and fast setting material of choice when using the drop technique for direct and indirect method.
Very efficient with a setting time of 5 to 7 minutes.
Exhibits remarkable colour stability with the following shades for each type of material.

Quick Resin A Shade: 23 (Enamel), 29 (Light Dentin), 32 (Dark Dentin)
Quick Resin B Shade: 2 (Pink), 3 (Dark Pink), C2 (Clear Light Pink), C3 (Clear Pink), R2 (Real Pink), U2 (Light Pink), U3 (Pink)
Quick Resin – O (Clear Shade)

It can also be used as a quick self-curing resin for compression moulding.
Packaging
Quick Resin A Powder 50 gm and 250 gm
Quick Resin B Powder 100 gm
Quick Resin A.B Liquid 50 gm
Quick Resin O Powder (Clear) 100 gm
Quick Resin O Liquid (Light Pink) 50 gm