We pray for your health and safety.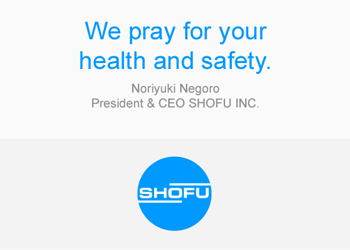 To all our customers, business partners and stakeholders,
With the spread of New Coronavirus (COVID-19) infections worldwide, more than 3 million people (as of April 30) have already been infected, and the world is going through this unprecedented crisis. We would like to express our deepest sympathies to the people who are suffering from the infection and offer our deepest condolences to those who unfortunately lost their lives. We also like to express our gratitude and respect to all medical personnel and organizations around the world that are committed in treating those infected patients and preventing the spread of infection while being exposed to the risk of infection to themselves.
As humanity is facing an unprecedented challenge, we place the highest priority to ensure the health and safety of our customers, business partners and other stakeholders. We will continue to respond in line with the measures to prevent the spread of infection issued by governments and health authorities of each country.
At the same time, in order to strengthen the smiles of people around the world, we are making every effort to continue to support our customers and stakeholders under the corporate philosophy of "Contribution to dentistry through innovative business activities". We will strive to deliver our products and services to the dental professionals around the world without any disruption.
May 15, 2020 is the 98th anniversary of our founding. Until now, we have overcome various crisis and with our sturdy corporate management, we continue to remain strong in our continuing business. And even with the threat of this new coronavirus, we will surely overcome it with the wisdom and efforts from all our executives and employees of the entire group; and become a stronger company to meet the changing needs of the customers, and we will be celebrating the 100th anniversary and even the 150th anniversary together with all our stakeholders.
In this difficult period is expected to continue for some time globally, but there will always be a bright future after that. Have hope for the future and stay healthy. We pray for your health and safety.
Noriyuki Negoro
President & CEO
SHOFU INC.