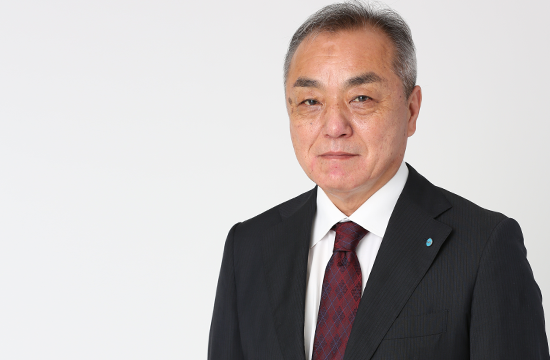 To everyone who has supported us for 100 years
Tetsuo Takami – Message from President & COO

SHOFU Inc. will celebrate its 100th anniversary on May 15, 2022.
We were able to reach this major milestone of 100th anniversary with the support of our customers, business partners, shareholders, local communities and all those involved in our business. I would like to express our deepest gratitude for the kindness and support.
Born as a small manufacture of artificial teeth, SHOFU has grown into a comprehensive manufacture of dental materials and equipment, creating the first products in Japan and the world through the spirit inherited from its founder and tireless efforts. This road has not been an easy one, and we have experienced various hardships. We have overcome those difficult situations with the mission of contributing to the worlds` dentistry and a society full of smiles.
The world is changing rapidly. With the 100 years of experience we have cultivated together with you, we will continue to take on the challenge of change and engage in innovative business activities for bright smiles in the next 100 years.
Concept behind the 100-year Anniversary Logo

In recent times, the "100-year human lifespan" has become a much-used phrase, and the role that dentistry should play in extending the healthy life expectancy of people is becoming more and more important.
Smiles are a barometer of health, and healthy teeth are essential for people's bright smiles.
Since our founding in 1922, we have contributed to making people around the world smile as a dental materials and equipment manufacturer.
As a dental materials and equipment manufacturer, we would like to contribute to the bright smiles of people all over the world for another 100 years
That is the concept behind this logo.
The "0" in the center of the "100" figure takes the form of a tooth and of a face with the "bright smile" alluded to in the slogan; the line extending from the roots of the tooth towards the Shofu logo indicates the progress that the company has made from 1922 to 2022, and the journey ahead over the next 100 years. SHOFU Dental ASIA-Pacific Pte. Ltd.
10 Science Park Road
#03-12 The Alpha
Science Park II
Singapore 117684
Phone: (65)-6377-2722
Fax: (65)-6377-1121
E-Mail: mailbx@shofu.com.sg
www.shofu.com.sg