Beautifil Flow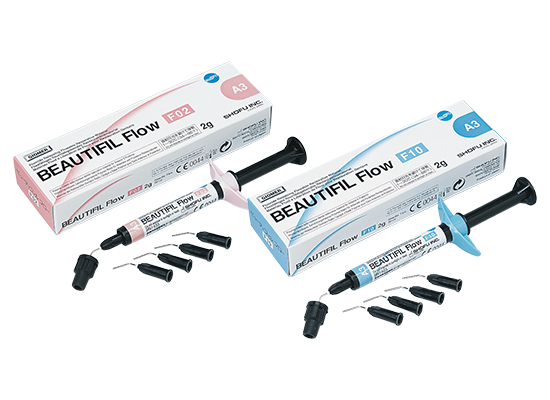 A unique flowable restorative material developed in two distinct viscosities Beautifil Flow F02 (Low Flow) and F10 (High Flow) while maintaining the same aesthetics, physical properties, filler load and particle size.
Features
Beautifil Flow F02 – created to offer moderate flow while retaining the shape, especially for restoring cervical areas and for minimally invasive restorations.
Beautifil Flow F10 – created for use when smooth flow is required, especially for restoring gingival box of class II, Pit & Fissure Sealant and as a cavity liner.
Excellent aesthetics with good translucency and high surface polish, ideal for cosmetic touch up and surface modifications of aesthetically demanding cases.
Fluoride release and recharge is advantageous when using as a base in conjunction with Beautifil II and the unique anti-plaque effect helps when treating patients with poor oral hygiene.
Radiopaque with high elasticity and stable stress relaxation, syringe design; dispense on demand with no oozing of excess paste and 360° rotary finger grip for efficiency of application even in hard to reach areas.
Availability
F02 (Shades) – A1, A2, A3, A3.5, A4, A30, G (Gum)
F10 (Shades) – A1, A2, A3, A3.5, A4, A30, A3T (A3 Translucent)
Packaging
Box of 2 gm Syringe
Needle Tips x 5