Beautifil II Enamel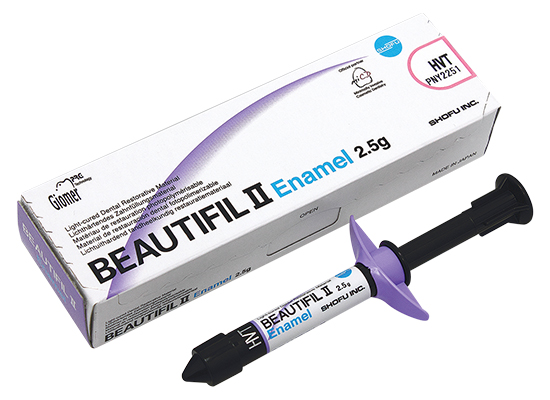 Beautifil II Enamel composites were developed as a  line extension of Beautifil II packable, bioactive, nano-hybrid composite for direct aesthetic restoration.
Available in 4 naturally translucent and opalescent shades that facilitate life-like shade reproduction and value adjustment in the final restoration to meet individual clinical needs. Optical characteristics have been fine-tuned  in the  enamel shades to easily blend with the Beautifil range of composites to create polychromatic restorations with morphology and aesthetics that mimic natural teeth.
Features
Provides age specific aesthetic enhancement for direct veneers
Exceptional handling characteristics with a smooth creamy consistency
One push syringe for controlled dispensing
Long working time to easily sculpt fine surface details
High abrasion / wear resistance
Stable shades – Naturally translucent and opalescent
Effortless and superior polishability with sustained polish retention
Shofu's proprietary S-PRG fillers offer additional fluoride benefits and anti-plaque effect on the restoration surface.
Available in 4 shades: T [REF Y2250], HVT [REF Y2251], LVT [REF Y2252], AM [REF Y2253]


Packaging