Pro Arch Articulator IG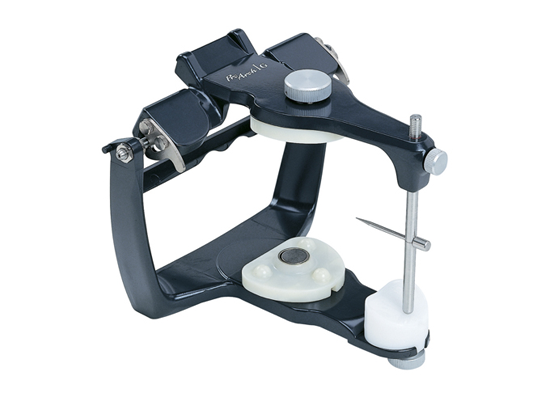 The most simple arcon-type model of the Pro Arch series, ProArch IG is developed to reproduce the natural relationship and movement of the patient's jaws on the basis of mean value jaw relation.
Features
Comes with a light weight cast aluminium framework with a robust structure that is free from flexure.
Attractive resin coating to provide a durable surface finish
Easy to obtain centric registration
The incisal pin has a notch that precisely stops at 0° position to reproduce accurate centric occlusal position
The ear location pin with a single reference indicator enables accurate face bow transfer
The cast can be mounted easily using the occlusal plane as a reference plane.
The guideline marked on the occlusal plate provides easy positioning of the cast in reference to the mean value of head position.
Precise remounting and easy removal of cast can be achieved with the powerful Magnetic Split cast Mounting Plate (MSMP). Ordinary mounting plates can also be used.
Easy opening and closing of centric lock lever as well as quick release for separating upper and lower portions of articulators
Upper jaw can be opened up to 120° and stays in position for easy handling
The incisal indicator can also be used as a reference for tooth arrangement.
The shape of incisal table makes it easy to check the contact between incisal pin and table.
Incisal table is replaceable to change the incisal path angle.
Each part is ergonomically designed for easy handling.
Packaging
Individually packed with Occlusal Plate, Split cast Mounting Plate S and Incisal Table 10°.