Solidilite V / Sublite V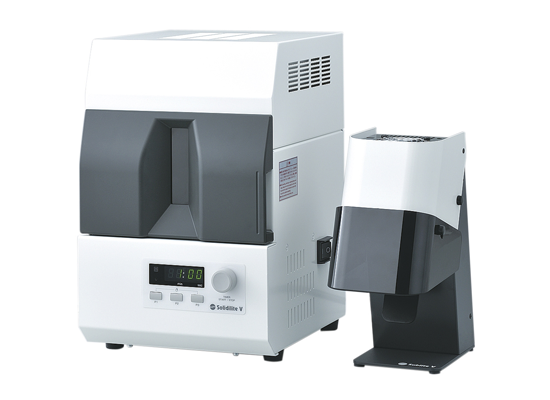 Solidilite V, the new generation indirect light curing unit features a compact, user friendly, sturdy yet ergonomic design with an integrated fan and a protective soft start cure mode to optimize efficient light polymerization of indirect composites such as Ceramage and Solidex.
Sublite V is an easy to operate, hand activated temporary light curing unit with an integrated fan designed for initial or pre-polymerization of the indirect composite during build up of the restoration, without the need to remove the restoration from the model.
Features
Solidilite V and Sublite V indirect light curing units are simple to operate and help to save valuable time by optimizing cure within a short time frame.
Compatible with a wide range of voltage spanning 100 to 240 volts, it is also equipped with a voltage selector that allows the selection of the appropriate voltage.
Solidilite V has a spacious curing chamber for ease of access and is equipped with special reflective surfaces while its rotating platform or turntable with adjustable height assures an ideal alignment of the restoration.
4 specially designed powerful halogen lamps with a wide wavelength spectrum of 400-550 nm ensures uniform optimised light polymerization.
The unit comes with a digital LED display on the front panel and pre-programmed curing time of 1, 3 and 5 minute. A manual selection option with a curing duration ranging from 10 seconds to 20 minutes with 10 second intervals is available.
Packaging
Available as individual units.
Specifications:
Solidilite V:
Dimensions: W 230 mm x D 252 mm x H 354 mm
Weight: approx. 9.5 kg
Supply voltage: 200 V-240 V, 50/60 Hz
Fuse: 2 x 3.15 A time-lag
Lamp: 4 JCR 110V 150 W halogen lamps
Spectral range: 400-550 nm
Sublite V:
Dimensions: W 112 mm x D 210 mm x H 252 mm
Weight: approx. 2.5 kg
Supply voltage: 200 V-240 V, 50/60 Hz
Fuse: 2 x 1.6 A time-lag
Lamp: 1 JCR 110V 150 W halogen lamp
Spectral range: 400-550 nm