Enamel Adjustment Kit CA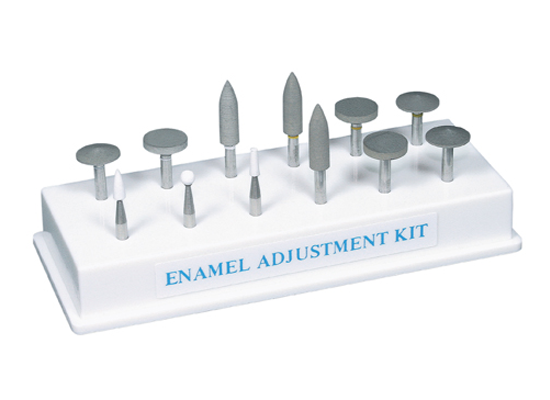 For Porcelain / Enamel
The Enamel Adjustment Kit is designed for intra-oral adjustments of natural dentition or porcelain and super polishing the adjusted surfaces. Ideal for polishing after cosmetic contouring.
Features
Efficient kit designed for fine finishing and polishing of natural enamel as well as porcelain restorations
Eliminates the need for re-glazing of the porcelain restoration, especially after chairside adjustment.
Recommended average speed:
Dura-White Stones: Speed of 5, 000 – 20,000 rpm
Ceramiste Points: Speed of 10,000 – 12,000 rpm
Dura-White Stones: Speed of 5,000 – 20,000 rpm
Packaging
The Kit [REF 0307] contains:
Dura-White Stones CA – 1 each TC1, FL2 & RD1 – for adjusting & finishing
Ceramiste Points CA – 1 each of KN7, PC2 & WH6 in Standard
Ultra & Ultra II grits – for polishing