Pro Arch Articulator III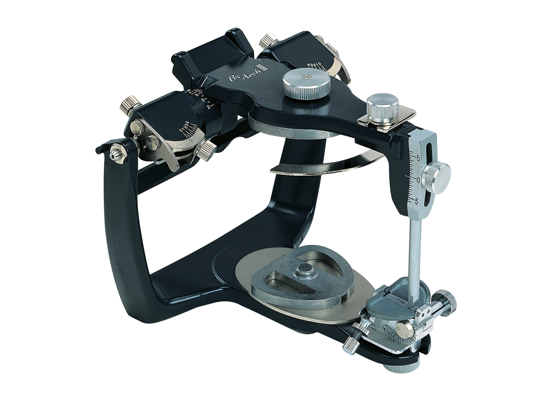 SHOFU's ProArch III arcon type articulator is designed to meet all the requirements of a semi-adjustable articulator to provide easy comprehension of patient's natural jaw movement and excellent handling properties for precise fabrication of elaborate and accurate dental prostheses.
Features
The Twin-Plate mechanism at the condylar guidance combines the benefits of both box and slot types. In denture fabrication, this mechanism prevents condylar guidance and ball from being disengaged in the eccentric position to provide an accurate occlusion.
Pro Arch III articulator has the angle adjustment structure for working side lateral condylar path (Bennett angle), as well as for balancing side lateral condylar path that enables adequate lateral check bite registration. The inverted-type adjustment feature makes the condylar path adjustment easy and accurate.
The angle of sagittal condylar path remains unchanged by the range of motion on this arcon-type articulator.
The Incisal Table can be selected from either the adjustable Incisal Table or resin block to suit individual cases.
The adjustment area of Incisal Pin has a shape of an arc centered on the Condylar Ball. Therefore, the position of the Incisal Pin and Table remain unchanged even if the distance between upper and lower jaws is changed.
Incisal and Condylar Guidance have sufficient adjustment range equivalent to human jaw.
The strong Centric Lock system ensures accurate centric registration.
Upper and lower jaws are easily separated. Upper jaw can be opened up to 120° for easy access. Lower cast mounting ring is adjustable in 2 positions for precise mounting.
Die-cast framework is lightweight with high precision and robust with a durable resin coating.
Packaging
Individually packed with Metal Mounting Plate, Reference Indicator, Adjustable Incisal Table, Adjustable Incisal Rod, Resin Block and Incisal Rod for Resin Block.