GlasIonomer FX Ultra Capsule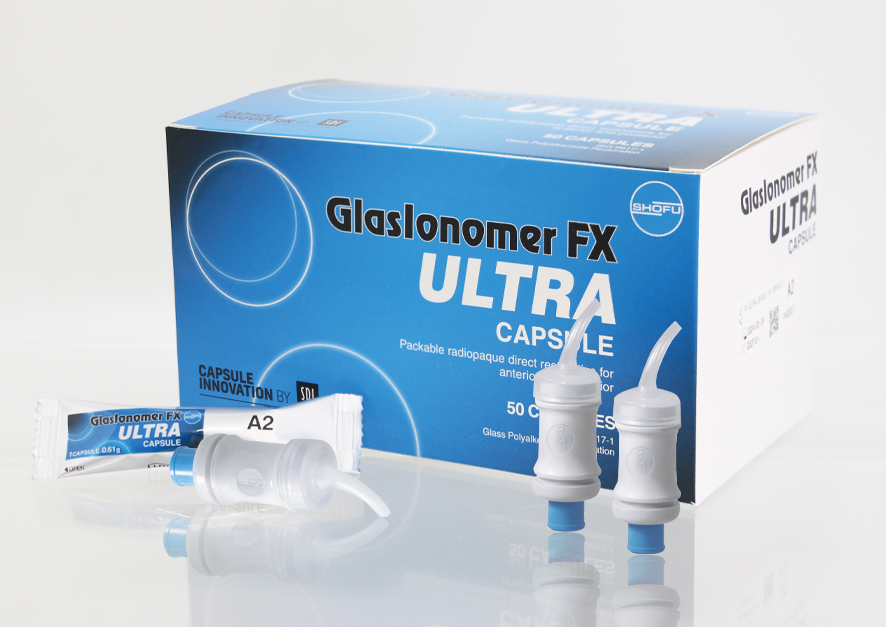 GLASIONOMER FX ULTRA CAPSULE
GlasIonomer FX Ultra is a highly translucent, bulk-fill, self-adhesive, strong and durable, restorative glass ionomer, developed to meet the daily restorative needs of patients across the entire age spectrum, with the convenience of capsule delivery.
Ideal for paediatrics, geriatrics as well as non-load bearing permanent restorations in adult dentition, GlasIonomer FX Ultra exhibits sustained fluoride release/recharge, to re-mineralize, reinforce and protect against secondary caries.
GlasIonomer FX ULTRA is formulated with novel glass technology and "high-performance" co-polymer that provide a homogeneous mix, optimal translucency, excellent working time and sharp-set with high level of translucency.
FEATURES
Excellent aesthetics with high translucency for better shade match
Superior mechanical properties for durable & lasting restorations
Time efficient with optimal working time & quick set at intra-oral temperature
Convenience of capsule delivery with one-step, capsule activation for fast and easy mix.
Optimal fluoride release and recharge that protects and reinforces tooth structure
Stable & reliable with low acid erosion and solubility
Comes in Shades: A2, A3, A3.5
PACKAGING
Available in a box of 50 capsules (each capsules weighs 0.61 gm)