EyeSpecial C-IV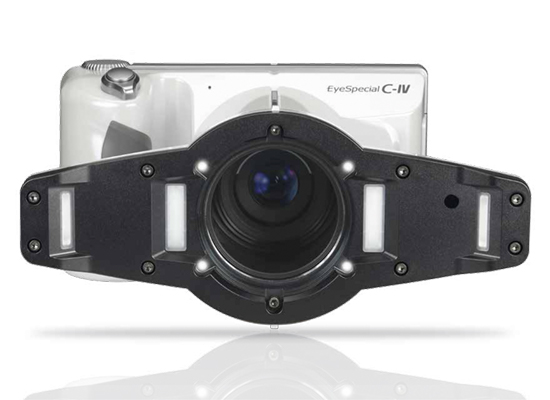 The EyeSpecial C-IV, smart digital camera is equipped with state-of-the-art digital technology to simplify dental photography and provide easy navigation, precision with versatility for easier, faster and more predictable images.
The ultra-light, compact and stylish EyeSpecial C-IV is designed exclusively for the dental team making it the ideal choice for your practice with a wide range of applications from routine intra-oral photography, treatment planning, orthodontic evaluation, lab communication , detailed case documentation for legal/malpractice defence and insurance verification.
The large LCD touchscreen with intuitive one-touch operations allows the user to view and scroll through images effortlessly, even with a gloved hand. This smart, foolproof camera ensures reliable operation with virtually no learning curve. EyeSpecial CIV features a durable polymer body that is easily wiped and disinfected for effective cross infection control.
Features
Easier, faster and consistent images – 12 megapixels, 9 shooting modes
User-friendly – Compact & Light for one handed operation even with medical gloves
Prevents cross contamination – Water, chemical and scratch resistant
Stress free – Fast autofocus, built-in Anti-shake with image stabilization
Video function
Large LCD touchscreen- Easy menu navigation, Built-in grid lines, auto-crop for uniform image size
Exceptional depth of field range- Crisp intra-oral images every time
Cutting-edge Flashmatic System- True colour reproduction with blockout of ambient light
Optional Accessory
Cross Polarizer (REF E0022) – when attached to the EyeSpecial C-IV provides a glare-free view, to visualize and capture the intricate details of the natural tooth surface without being distorted by light reflections.
Packaging
Shofu EyeSpecial CIV Camera (REF E0021):
Close-up lens (49 mm) from Kenko
Lens cap
Hand strap
4 AA batteries
16 GB SDHC memory card
SHOFU gray card for Eyespecial CIV
User Manual
Quick Reference Guide