CoreShade GlasIonomer Base Cement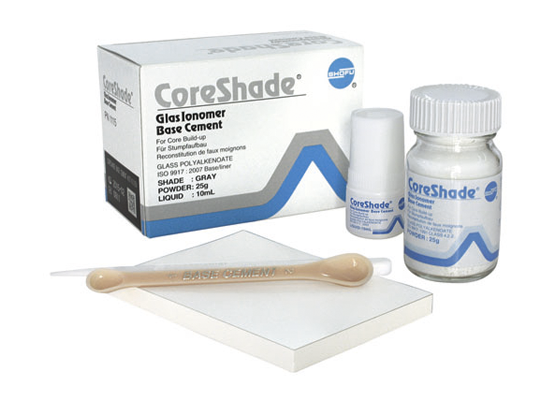 Specially formulated to provide a dependable, metal-free core build-up with easy differentiation from natural dentin.
Features
Offers high compressive strength with a packable consistency ideal for restoration of posterior deciduous teeth.
Brownish gray colour makes it easy to differentiate from the tooth core during preparation.
Superior handling characteristics for easy application and chemically bonds to tooth structure to ensure durable core build-up for long lasting restorations.
Radiopaque and biocompatible with fluoride release.
Packaging
CoreShade Glaslonomer Base Cement (Professional Kit) contains:
Powder 25 gm & Liquid 10 ml [PN 1115], Mixing Pad & Spatula