SHOFU Block HC & Disk HC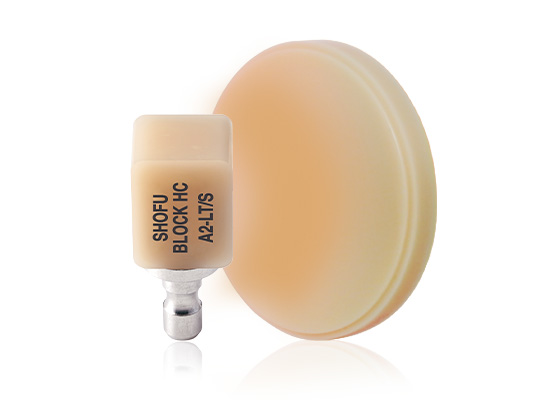 SHOFU HC Hybrid Ceramic is designed with exceptionally natural aesthetics, superior mechanical properties, faster milling and is easily polished to life-like lustre that lasts.
Unique filler technology and decades of experience in indirect resins has provided the expertise for the development of SHOFU HC Hybrid Ceramic that is ideal for an array of aesthetic restorations- inlays, onlays, veneers, anterior/posterior crowns as well as implant supported restorations.
A class apart, SHOFU CAD/CAM restorative offers the flexibility of the in-office (SHOFU Block HC) and in-lab (SHOFU Disk HC) options, allowing you to select precisely what you need.
Features
Created through a rigorous manufacturing process, SHOFU Block HC / Disk HC exhibit superior features and consistent quality.
Life-like Aesthetics with natural opalescence
Excellent polishability for lasting aesthetics
Remarkable stain resistance
Exceptional wear resistance
Greater flexural strength and shock absorbing ability
Compatibility
Available with various holding pins (UNIVERSAL, CEREC, CERAMILL), SHOFU HC Blocks are compatible with a range of CAM systems.
LT – Low Translucency
Designed to match VITA Classical shades with lower translucency to suit cases of posterior crowns
HT – High Translucency
Designed with higher translucency to suit cases of inlays and anterior crowns
Enamel
Designed to replace the enamel layer, 59 (Incisal) and OC (occlusal)
Specialized Hybrid Ceramic Primer
HC Primer
The novel primer is specially developed to provide a perfect surface pre-treatment for reliable adhesive bonding of SHOFU Block HC / Disk HC restorations to resin cements such as Resicem.
HC Primer is created with innovative monomer formulation that enables the primer to infiltrate the Hybrid Ceramic Matrix and create a strong micro-mechanical retention between the primer and restoration.
Packaging
SHOFU Block HC Intro Set:
10 Blocks, 1 Each Size Of S And M, Shades A1-HT, A2-HT, A3-HT, A3-LT And OC
Available in UNIVERSAL & CEREC
SHOFU Block HC:
5 Blocks each per box; Size S and M
Available in UNIVERSAL & CEREC
SHOFU Disk HC:
1 Disk each per box; Diameter 98 mm, Thickness 14mm