ZR Lucent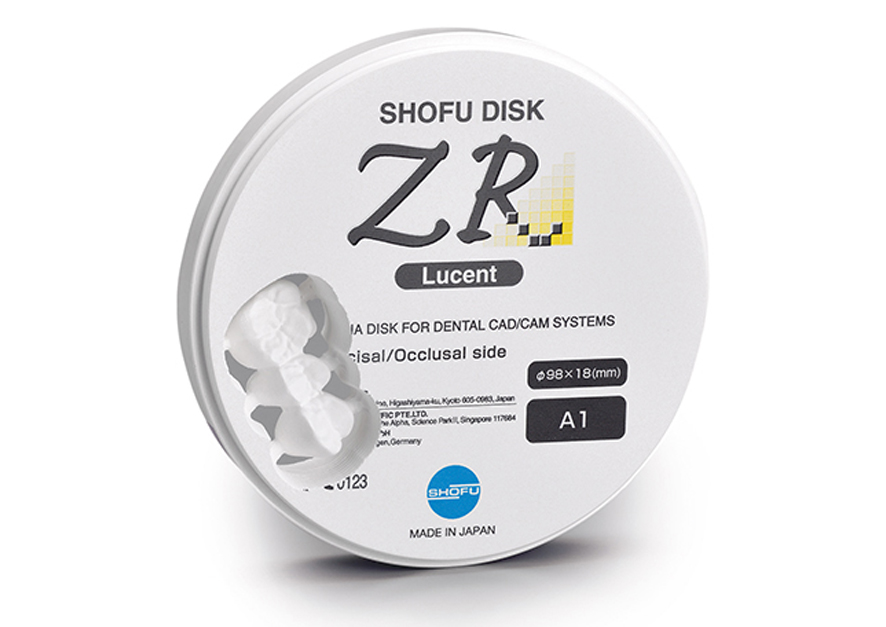 Zirconia with the Aesthetic Difference
Shofu ZR Lucent is an innovative, multi-layered, highly translucent, pre-shaded, gradient, zirconia disk with life-like aesthetics and exceptional durability for predictable anterior and posterior restorations.
An outstanding flexural strength of over 1,000 MPa ensures durability and resilience. Shofu ZR Lucent comes with a unique balance of shades and high level of translucency in a single millable blank that ensures seamless aesthetic integration and efficient production.
Smooth transition in the five-layer blanks enables a harmonious, life-like blend of shade intensities from enamel (one layer, 30%) to dentine (three layers, 35%) and the cervical area (one layer, 35%), to perfectly match the natural dentition.
The restorations can be further enhanced by either simply staining and glazing with Vintage Art Universal Stains or by micro-layering with Vintage ZR veneering Porcelain.
Shofu ZR Lucent is ideal for fabrication of anterior crowns & veneers, inlays/onlays, anterior bridges (up to 6 units) and posterior crowns & bridges (upto 3 units).
Features
Strong & Durable
Natural aesthetics with exceptional translucency
Efficient and reliable production
Made with pure Tosoh Zirconia for reliable quality
Compatibility:
Available as a pre-sintered, pre-shaded disk
Flexural strength of 1,019 MPa
Sintering Temperature: 1,450 °C with
Co-efficient of thermal expansion: 10.2 x 10– 6 K-1 (25 °C – 500 °C)
Packaging:
1 Disk each per box, Diameter 98.5 with groove, thickness of 14mm, 18mm and 22mm
Shades:
Monolayer: Trans
Multilayer- A1, A2, A3, A3.5, B1, C1 & D2