CompoMaster Coarse · CompoMaster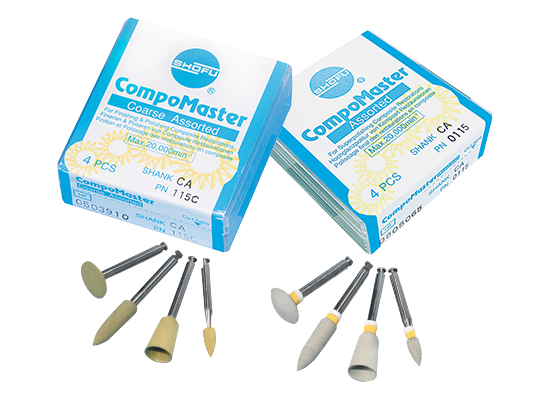 Diamond impregnated polishers designed with a unique blend and high density of natural diamond particles to provide an exceptionally smooth surface on any composite material.
Features
Developed for fine finishing to super-polishing of direct resin restorations, this diamond impregnated silicone polisher is available in two grits:

CompoMaster Coarse (yellow polisher) – For finishing & basic polishing
CompoMaster (yellow & white bands) – For superpolishing

Provides a simple, fast and efficient polishing and super polishing for intra oral, chair side or laboratory use. Durable and cost effective two-step polishing system, available in HP and CA shank.
Recommended Speed Range:
Mounted Polisher: 5,000 – 15,000 rpm / max. 20,000 rpm. Contact Pressure: 0.5 N
Unmounted Wheel: 5,000 – 10,000 rpm / max. 15,000 rpm. Contact Pressure: 0.5 N


Packaging
Individual shapes are packed in a box of 3's
Assorted shapes are packed in a box of 4's as follows:
CompoMaster Coarse Assorted CA [REF 115C]
1x Bullet, Knife, Cup, Mini-Point
CompoMaster Coarse Assorted HP [REF 120C]
1x Bullet, Mini-Point, KN7, WH6
CompoMaster Assorted CA [REF 0115]
1x Bullet, Knife, Cup, Mini-Point
CompoMaster Assorted HP [REF 0120]
1x Bullet, Mini-Point, KN7, WH6
*Unmounted wheels come with 1 Mandrel