Nice Fit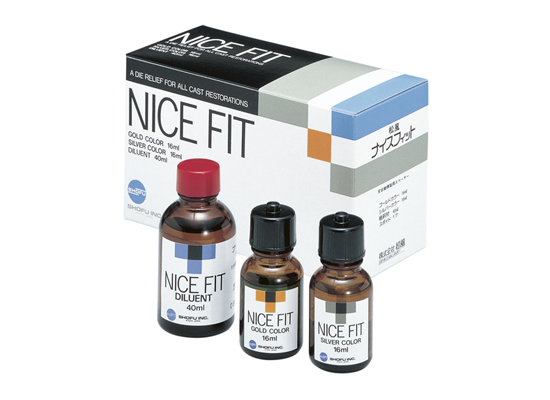 A quick setting die spacer ideal for all cast restorations with a simple and uniform application of 10 µ layer thickness.
Features
The gold and silver colours help ensure complete and even application to achieve the required space for the luting cement.
Simple and easy application
Each layer is 10 microns in thickness. Adjustable to the required thickness of relief with alternate application of liquids Silver and Gold colours.

Quick setting and saves time
Ideal for nickel chrome castings
The diluent liquid can be used to obtain a desired thickness of Nice Fit and also to remove excess
Nice Fit paint from the model
Should not be paint over the marginal area, leaving about 0.5mm in order to obtain a good marginal fit.
Packaging
Nice Fit Set contains:
1x Nice Fit Diluent 40 ml, 1 x Nice Fit Gold Colour 16 ml, 1 x Nice Fit Silver Colour 16 ml, 1x Dropper
Refills: